Compassion For Fierce Times : Mindfulness-based Compassionate Living (MBCL) - 8 week course over 10 weeks (New course dates post Covid virus - TBC)
"What if we were willing to acknowledge our own hurt and pain, and in doing so made sure not to diminish the hurt and pain of others? We could change the whole world." - Brené Brown
We are living in increasingly challenging times. How can we develop the positive emotional habits that make us more resilient and able to navigate through stress and difficulty?
Every human being has a capacity for compassion, but many struggle to find a balance between caring for ourselves and caring for those around us.  MBCL (Mindfulness Based Compassionate Living) is a part of a new wave of Mindfulness-practices which draws on contemporary findings from the fields of evolutionary psychology and neuroscience to offer practical tools and exercises that enhance mental and physical health for both personal and collective care.
Benefits include:
• Greater compassion towards yourself and others
• Increased acceptance, well-being and happiness
• Being able to better manage difficult thoughts and feelings
• Building resilience to deal with life's difficulties
• Preventing compassion fatigue and burnout
• Developing mindful awareness
• Reducing the stress response in the body and boosting the immune system
• Reducing anxiety and depression
• Improving concentration & sleep
Course Pre-requisite: The MBCL course can be an emotionally challenging programme, so is suitable for anyone who has an established Mindfulness practice and/or has followed a basic Mindfulness course such as Mindfulness Based Stress Reduction (MBSR), or Mindfulness Based Cognitive Therapy (MBCT).
Cost: £TBC in advance. Includes individual interviews, ongoing support throughout the course, session handouts and downloadable resources. There are a number of free places available for NHS staff and low/no-wage concessions also available on an individual basis. Please contact lindsayalderton@gmail.com for more info.
Tutor: Lindsay Alderton has had a personal mindfulness meditation practice since 2004 and has trained with both the Centre for Mindfulness Research and the Mindfulness Network, in both MBSR (Mindfulness-Based Stress Reduction) and MBCL (Mindfulness-Based Compassionate Living). She has taught Mindfulness within NHS settings, and in 2017 helped launch the Ulex Project, a pan-European training centre which incorporates Mindfulness and Compassion practices into a programme of resilience trainings for activists and community organisers. She is passionate about sharing ways in which developing the skills of Mindfulness and Compassion can support greater capacity to meet life's difficulties and challenges.
Please contact lindsayalderton@gmail.com for further information.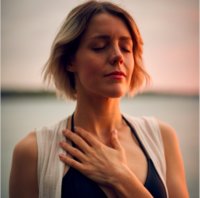 When:
Weekly from 01 Jun 2020 until 01 Dec 2020
Where:
Quaker Meeting House, Frodsham Street, Chester
Time:
1:00am until 1:00am
Cost:
£0.00
---